About Us
Leadership
Current Board members:
Ed Hilton, President
Hali Hammer, Vice President
Thad Binkley
Charlie Fenton
Bob Helliesen
Daniel Hersh
Amelia Hogan
Phyllis Jardine
Jerry Michaels
Dave Sahn
The San Francisco Folk Music Club (SFFMC) is a California non-profit corporation led by a board of directors. The board manages "the business and affairs of the Corporation", as stated in the SFFMC bylaws.  The SFFMC articles of incorporation can be downloaded here and the bylaws are here.
The board meets on the second Tuesday of every month from 8 pm to 10 pm, except in August unless the board decides to have an August meeting. Meeting location varies and is announced in the folknik. The board currently meets remotely via Zoom.
All club members are welcome to attend board meetings. To find out how to attend a meeting or to contact the board for any other reason, email us at info@sffmc.org or call 510-473-6651.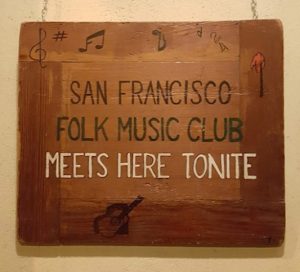 The San Francisco Folk Music Club, one of the leading folk music organizations in the Bay Area, is dedicated to the enjoyment, preservation and promotion of acoustic music in individual, family, and community life.  Our members include singers, instrumentalists, performers, song writers, dancers and listeners.
Musical Meetings. We hold song swaps and jams on the second and fourth Fridays of each month from 8:00 p.m. until midnight at Cyprian's ARC at Turk and Lyon streets in San Francisco. This venue has 5 separate rooms for jamming and lots of easy street parking within one block.
Music Camps. On the weekends of Memorial Day, July 4th, and Labor Day we have folk music campouts in the Bay Area.  Our Camp Harmony takes place over the New Year holiday.
Festivals.  We present the San Francisco Free Folk Festival every June and the El Cerrito Free Folk Festival every October, with performances, workshops and dancing.  Admission to both events is free.
We publish the folknik, the Club newsletter, every other month.  It contains a schedule of folk music events in the San Francisco Bay Area and beyond, original songs, news of Club activities, and articles of general interest.  Mailing is done at a potluck music party.  The online folknik includes most of the content from the current issue and some past issues.
Our Harmony email group is devoted to discussions, announcements, and whatever is of interest to the Bay Area folk music/dances communities. To subscribe, visit https://groups.io/g/harmony.
Our purpose is the enjoyment, dissemination and preservation in individual, family and community life of that acoustic music roughly defined as folk.
All work for the club is done by volunteers. This keeps membership costs low. Decisions are made by a Board which meets the second Tuesday of each month at a location announced in the folknik. Everyone is invited to these meetings for discussions on practical and policy matters affecting the Club.
We are a non-profit corporation (501(c)(3)).
We were founded in 1948 – for more information, see our History page.  Because there are many whose love of folk music causes them to devote a considerable amount of time and energy to the club, it has grown to hundreds of members, has inspired/mothered/fathered some five folk clubs in California and is a solid musical entity in the West Coast music scene. Some members have gone on to fame and fortune, such as they are in folk fields, becoming professional performers.
For further information on the San Francisco Folk Music Club, please write SFFMC, 1609 Woolsey St, Berkeley CA 94703, or email info@sffmc.org
You can now join the club or renew your membership online! If you'd prefer to use postal mail, you can still print out our membership form, fill it out and mail it in with a check.  For membership inquiries, (including any issues receiving the folknik) please write SFFMC Membership, 149 Santa Maria Ave, San Bruno CA 94066, phone (510) 473-6651 or email membership@sffmc.org.